Bo Furries

Description

light tabby tomcat with white paws and green-yellow eyes. He has a white dash between his eyes.

Birthdate

August 1, 2007

Littermates

Nosey and Daisy Furries

Deathdate

No information

Deathcause

No information

Mates

Samantha

Offspring

none, both cats are fixed

Known for

Named after 'Bo' form The Dukes of Hazzard

Also Known as

Bo-Bo and Bojangles-nicknames

Notes

Bo loves water and is petrifyed of the wolfman mask.
Bo was born with his two known littermates on August 1, 2006. His mother was an unknown she-cat and his father was an unknown tom. His littermates were his sisters,
Nosey Furries
and Daisy Furries. When he was six weeks old, he was taken to a Walmart parking lot with his littermates where they were given away to RussleH and her Furries family. Bo and his littermate sister Nosey stayed together while his sister Daisy were given to a family friend. He stayed inseporatable with his sister for the first six months of his life.
At their new home, Bo met Prissy Furries, an elderly she-cat who accepted his presence. However, she did not like Nosey due to her playful antics. The three cats soon accepted each other but the truce was soon broken. His littermate sister was hit by a car on February 6, 2007 and Bo was left alone with Prissy. He became a full time indoors cat after that accedent. Then, in May 2007, Prissy had to be euthenized due to a tumor underneith her jaw. Bo was now the only cat in the family. However, he wasn't left alone for long. In late May 2007, RussleH brought home a little six week-old she-kit named Samantha Furries. At first, Bo did not accept her presence. He would growl and bit at her, making it clear that he did not like the new cat. However, by the middle of July, the two cats could lay down toghether and groom without fighting. By the end of the year, Bo had taken Samantha as his mate. However, they could not produce any kittens because both animals had been fixed.
Throughout 2008, Bo and Samantha were inseporatable. Bo grew to be a large, powerful and fat tomcat while Samantha also gained size and stature. By 2009, he was fully-grown and a large tomcat. He was given a collar during this time.
In early 2011, both cats ezxperianced a bought of bad weather. He and Samantha were taken to the shelter where another she-cat, Shadow Furries, called home. All three cats growled and hissed at each other. Bo tried to approach Shadow with no sucess as she was ready to fight the two of them. Samantha di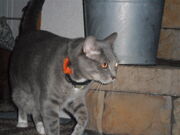 d not accept either cat's presence and eventually Shadow and Samantha errupted into a fight. Bo interviened and took Samantha's side. After this encounter, Bo and Samantha returned home safely as the bad weather was over.
As of currently, Bo is Samantha's mate and the oldest tomcat in the cat population next to Tiger Furries. His littermate Daisy is also alive and well and he is fast approaching his fifth birthday.
Snapshots
Edit
These are the pictures RussleH has taken of Bo over the past five years.